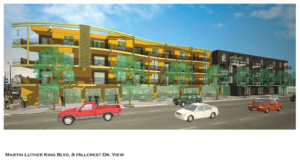 Proposed Development Project | DJ TOWERS WORKFORCE HOUSING

The Baldwin Bethany Community Development Corporation (BBCDC) continues to address the needs of the Baldwin Village/Crenshaw Community by focusing on affordable housing in the community.

Our mixed-use development will provide high-quality affordable living space for local workers and professionals. The BBCDC will soon utilize the land at the southwest corner of King and Hillcrest (with nearby Metro line access) to build a sixty-nine (69) unit workforce housing development, with five to ten thousand (5,000 – 10,000) square feet designated for educational use as BBCDC continues to expand its programs and services.